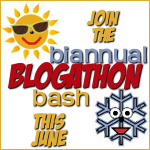 Here is my kickoff post for the Biannual Blogathon Bash, which begins right now (8am EST) and runs until Monday, 8am EST. In those 72 hours, I plan to do as much as I can related to my blog. I have created a to-do list, but hopefully I can get other things done as well…you know, things that I will think about as I work but I don't have on the list.
My To-Do List for the Blogathon
Redo the Gift Guide section in my header (Create "Gift Guide" option and have different guides as a drop down)
Update Winner's page/remove Rafflecopter forms
Write 3 reviews (minimum)
Write 3 regular posts (minimum)
Come up with at least 10 new post ideas
Update my Content Calendar
Organize my blog's email account
Find 5 new brands to pitch for upcoming giveaway events
Update my About page
As far as time, my goal is to work on my blog for at least 30 of the 72 hours. I will be keeping track each time I start and stop working, so that I can accurately figure out how much time on blogging stuff this weekend.
Wish me luck!!