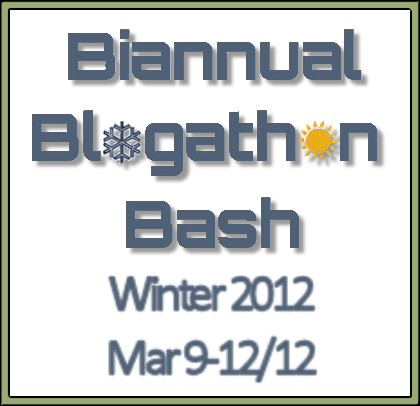 The Biannual Blogathon Bash ends in the morning, but I probably won't be on my computer before it's over…so I wanted to go ahead and do my last post.
I feel very accomplished with all that I got done. It wasn't anywhere near my 24 hour goal, but I was still able to mark almost everything off my to-do list. It now looks like this…
Add my button and grab box back to my sidebar
List giveaways on Online Sweepstakes and Giveaway Promote
Brainstorm at least 10 blog post ideas (Actually came up with 11!)
Schedule as many posts as possible (Only 4, but better than none!)
Finish at least 3 reviews
Find 5 possible sponsors for upcoming giveaway events (Found 8!)
Create a "Favorite blogs" page with buttons/links for my favorite bloggers (This is the only one I didn't do…still debating if I actually want to do it or not)
Brainstorm/start to plan my first cash giveaway event (Think I'll be hosting it in August)
Complete all of the blogathon's mini-challenges
Fix the CommentLuv error that has just popped up this week (Just removed it because I have NO clue how to fix it!)
I also did other many other blog-related things, including commenting on other blogs participating in the event, checking email periodically to keep my near empty inbox looking pretty, and baking cupcakes (hey, they are for an upcoming blog assignment that's due this week, so that totally counts!
).
My total time logged during the blogathon was 17 hours and 15 minutes.
Given the busy weekend I had (birthday dinner, Spring cleaning, etc), I am thrilled that I was able to find that much time to work on my blog. The next blogathon will be held June 15-17, 2012, and I cannot wait!