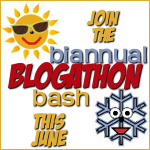 Back in March, I participated in the Winter Edition of the Biannual Blogathon Bash (Click for more info if you've never heard of it). Now, I am gearing up to be a part of the Summer Edition, which starts tomorrow.
Last time, I created a big to-do list and was able to knock out a great deal of it within the 3 days of the blogathon. For the entire weekend, I blogged (or worked on my blog, which also counts) for over 17 hours. That's a lot of stuff accomplished!
It felt good to be able to focus that much time on my blog. Last minute plans came up and I wasn't able to put in as much time as I would have liked, so this time I am hoping to do more. As of right now, I have nothing planned for Saturday or Sunday. Tomorrow consists of shopping at a consignment store that is closing and then just spending time with the kiddo until James gets off. Once he is home, though, I plan to get in as much work as possible.
Wish me luck! Tomorrow I will be posting my to-do list and goals for the event, and I hope you will follow along to see how well I do!
And if you are a blogger and want to join or learn more, be sure to check out the Biannual Blogathon Bash!