My name is Maria and I am the blogger at Close To Home. I blog about recipes, crafts, entertaining and reviews and hope you will come visit my blog soon.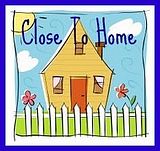 I am thrilled to be a guest blogger at Southern Girl Ramblings and thought I would share some quick decorating ideas with my favorite thing, candy.  So perfect as Halloween is soon approaching. I hope you will come visit me sometime for more entertaining ideas.
Sometimes the simplest decorating ideas are in the candy aisle, especially around the holidays.  For the next few months, there will be no shortage on candy decorating ideas.
Tonight I had a back to school night event and needed to bring a dessert platter. Another mom had already picked brownie bites so I was not in the mood to cook anything else that would most likely go uneaten. I was at Walmart on Sunday and found frozen Eclairs, they sell them at most grocery and bulk stores.
I started putting them on a platter by themselves then thought how can I make these a little more interesting and festive. I had bought a huge bag of Candy Corn, tis the season, for 1.88 at Walmart. Placed them under the eclairs and amazed at how quick, easy and inexpensive it can be.  Fun thing to do at Easter with jelly beans or any other event. Candy can be very creative!!
Here I used the Pumpkin candy Corn in a simple hurricane candle holder and added a candle.  The candy options are also endless for this and other holidays.
Nothing dresses up a table like a bowl of candy.  How about one with the festive colors Fall such as those inCandy Corn. Love the Harvest Mix for this.  I also love some M and M's in this mix. (Halloween colors of course!)
Thought I would throw this picture of how easy it is to add color to a table with simple little baby pumpkins and Indian Corn.  All available at your favorite supercenters or grocery stores this time of year.
What are your favorite ways to brighten up a not so pretty platter?