Rock N Learn have several great DVDs out that are great for preschool as well as school aged children. The films feature very animated characters and some upbeat music to get your child involved in learning. In the past, I have reviewed their Sight Words DVD and enjoyed watching it with my son.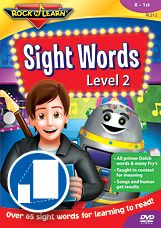 This time, we were able to review the Rock N Learn Sight Words 2 DVD. This movie featured more common words that children learn before they begin reading.
The DVD can be used as an additional tool from the first Sight Words DVD, but it's also okay to watch alone, even if you don't one the previous edition. There are some words reviewed from the first installment on Sight Words 2 as well as 68 new words being introduced.
The sight words that are introduced in this movie include:
use • your • words
like • this • new • but • old • too
what • bear • black • brown • white
do • did • eat • ate • ran • say • four
dog • they • are • all • under • trees
who • will • be • good • at • am
he • came • by • get • her • went • ride • boat
yes • or • no • please • thank
that • pretty • was • on • she • saw • with
our • must • have • had • now
want • into • room • out
when • were • there • so • soon • well
From watching both movies with my son, I think I actually liked Sight Words 2 better. It seemed more interesting and had catchier songs. I think both of them together are a great way to assist my son with learning new words.
Though it is geared toward Kindergarten-1st grade levels, my son has picked up a few words from watching Sight Words 2. He doesn't recognize them yet, but he's adding them to his verbal vocabulary.
Rock N Learn offers a variety of other educational DVDs in many different subjects, including reading, math, and science. To check out all of their available movies, visit www.rocknlearn.com.
I received the above product through a Karma Media campaign in exchange for my honest, unbiased review. All opinions are 100% mine.